Raja Ampat Liveaboard Diving
---
Hopping aboard a Raja Ampat liveaboard is on the bucket list for many scuba divers and non-divers alike, and for good reason.
Home to the world's most biodiverse coral reefs and more than 1,400 fish species, many would agree that the scuba diving in Raja Ampat is second to none. Throw its year-round warm water temperatures and stunning landscapes, you've got yourself a perfect paradise.

Probably the image that comes to mind when thinking of Raja Ampat. Captured in Wayag, North Raja Ampat.
Exploring with a liveaboard in Raja Ampat is the best and most time-efficient way to enjoy the area's best diving, as this massive area is made up of 4 main islands—Misool, Salawati, Batanta, and Waigeo—as well as 1,500 small islands and cays.
Non-divers can equally enjoy Raja Ampat with its fantastic snorkeling, pristine beaches, fascinating views, and local villages, or by simply enjoying the serene good life on our Raja Ampat liveaboards.
Raja Ampat Liveaboard Itineraries
We offer a good number of itineraries in Raja Ampat every year aboard our two luxury liveaboards, MV Ambai and MSY Seahorse. Our boats are among the best of Raja Ampat liveaboards with 20+ years' experience. We know where and when to take you and when to enjoy the best dives of your life!
Here is a summary of our Raja Ampat liveaboard itineraries to help you pick.
For full details and highlights of our itineraries, marine life to see, and other important details please scroll down to the Schedule & Rates section and click on an itinerary.
Ultimate Raja Ampat
10-12 Nights - Sorong to Sorong
Our most popular Raja Ampat liveaboard itineraries, and the one to choose if you want to experience the best diving in Raja Ampat. You will visit and dive Misool and Dampier Strait, renowned for its world-class wide-angle dives, one-of-a-kind soft corals, and a density of fish like nowhere else in the world. Also known for its manta rays and amazing macro dives at Batanta.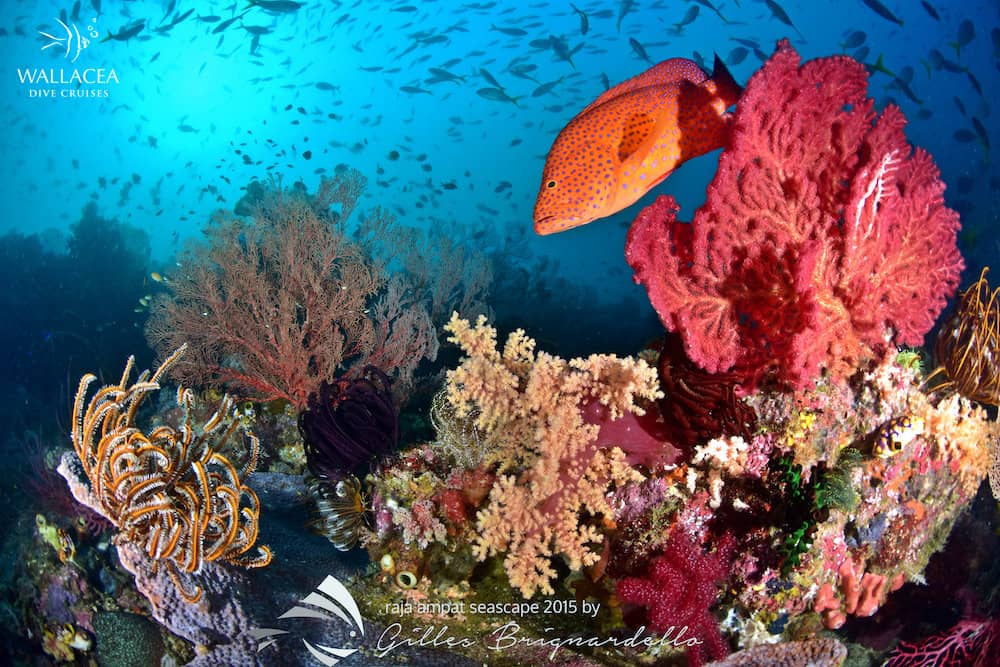 Misool is best known for its plethora of colors and marine life, and highly varied topographies.
In North Raja Ampat, you will see firsthand Wayag's iconic landscape, with lots of small islands and turquoise water, alongside some great dives.
Other than that, divers often encounter trevallies, barracudas, bumphead parrotfish, schooling fusiliers, and bigger fish like tunas, mackerels, reef sharks, as well as the endemic Wobbegong, epaulette 'walking' shark, and Papuan Garden eel.
We always include at least non-diving activities during our cruise such as beach hopping, beach barbecues, a climb in Wayag for its breathtaking view, local village tours, jellyfish lake trip, Blue River visit, and a trek to see the birds of paradise.
Raja Ampat, Banda Sea & Triton Bay
11 to 14 Nights - Embarkation and disembarkation ports vary
These amazing itineraries take you to Misool for the world's most colorful dives, to the Banda Sea for its schooling hammerheads, and Triton Bay for a chance to dive with the gentle giants—whale sharks. Speaking of diversity!
Raja Ampat Misool & Dampier Strait
9 Nights - Sorong to Sorong
If you're short on time but want to dive the best of Raja Ampat, then this is the itinerary for you. We will take you to the same dive sites and areas as the Raja Ampat Ultimate itinerary, minus the North, guaranteeing a spectacular time for divers and non-divers alike.
Combo Raja Ampat Itineraries
10 to 14 Nights - Embarkation and disembarkation ports vary
We offer various itineraries combining Raja Ampat with other diving gems in Indonesia, such as Banda Sea, Sulawesi, and Halmahera. It's a great chance to dive some of the world's best and discover off-the-beaten-path locations at the same time. Perfect for the adventurous at heart!
Raja Ampat Diving Highlights
Nicknamed 'species factory' there's something for everyone in Raja Ampat, divers and non-divers alike. Underwater photographers can bring out their macro and wide-angle lens and find an overwhelming amount of photo ops on every dive.
While all of Raja Ampat is spectacular, each area has something different to offer:
Dampier Strait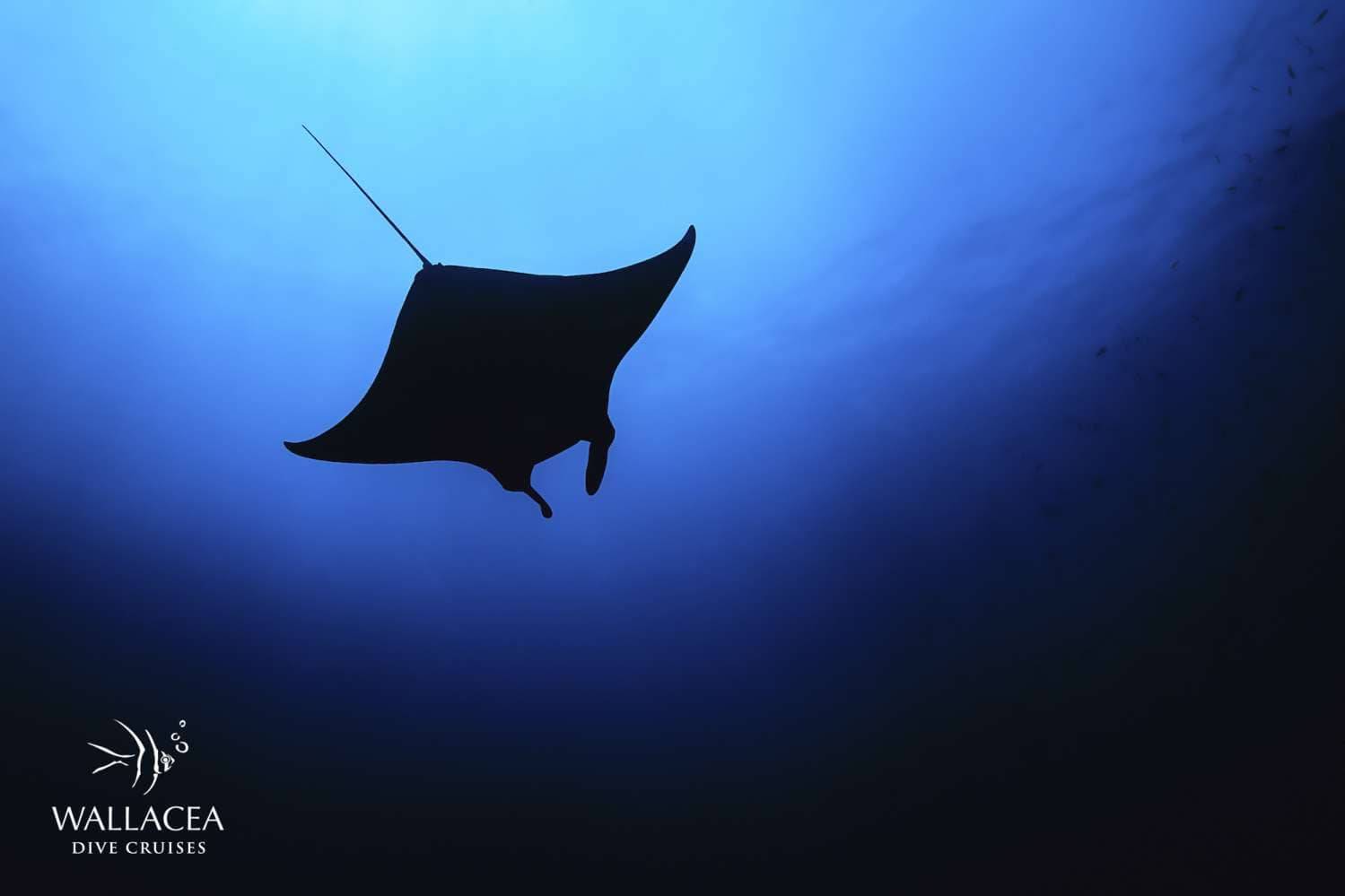 Manta ray spotted from below while diving Dampier Strait, Raja Ampat.
Located between two of Raja Ampat's main islands, Waigeo (North) and Batanta (Central), this area is best known for its out-of-this-world density of tropical fish.
Cape Kri is probably the best-known site of this area, thanks to Dr. Gerard Allen who brought it to the world's attention when he documented 347 fish species in one dive at this site.
Dampier Strait is also where manta rays are frequently spotted, especially at a manta cleaning station called Manta Sandy.
While visiting the area we usually stop by Piaynemo, for one of Raja Ampat's best views.
Misool, South Raja Ampat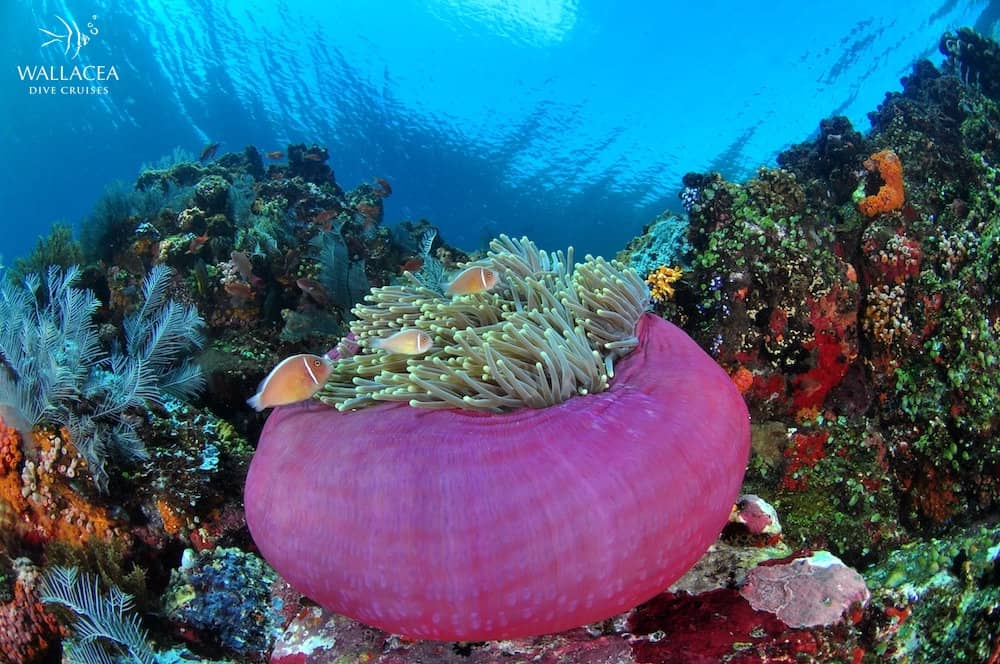 The serene yet colorful underwater scene in Misool.
If you've seen underwater photos of Raja Ampat bursting with colorful soft corals, chances are they were shot at Misool. Soft corals aside, this island in South Raja Ampat offers amazing wide-angle dives with gorgonian fields and rich topographies.
Misool is also known for its stunning mangrove forests, where soft corals can be seen on the mangrove roots!
The critter life in this area is also excellent, making this area excellent for macro and wide-angle underwater photographers alike.
North Raja Ampat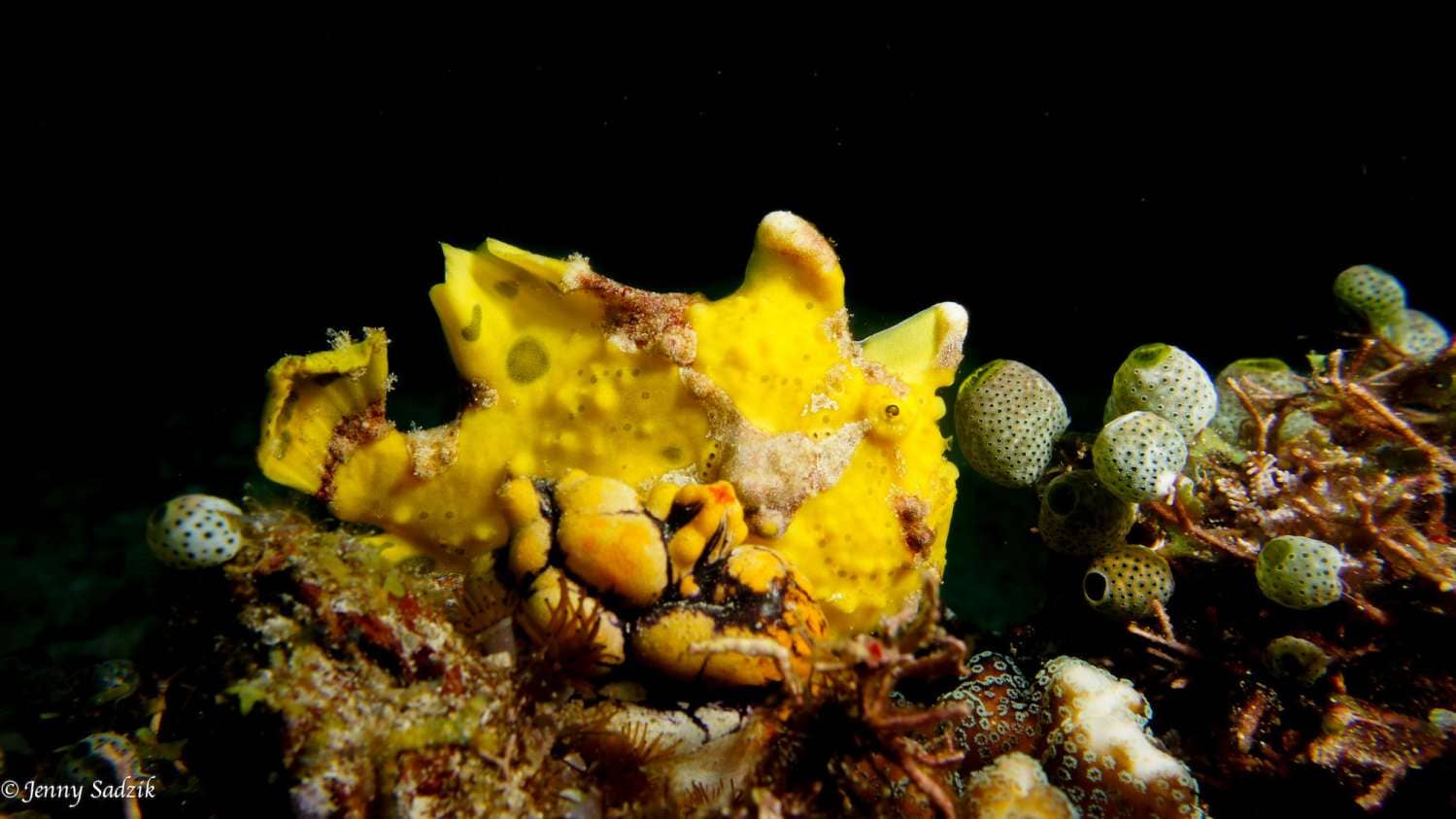 Frogfish spotted while diving North Raja Ampat.
North Raja Ampat is probably best known for Wayag, where you will find Raja Ampat's iconic landscape, featuring beautiful small islands surrounded by turquoise waters.
The dives might not be as excellent as in Misool or Dampier Strait, but you will still experience stunning dives with beautiful black coral forests, gorgonians, and excellent macro dives.
Raja Ampat Dive Sites
Here are some of the best dive sites in Raja Ampat that we visit. Please note that the dive sites visited by our Raja Ampat liveaboards would depend on the itinerary as well as weather and sea conditions. To see the map of each itinerary, please see our Schedule & Rates section below.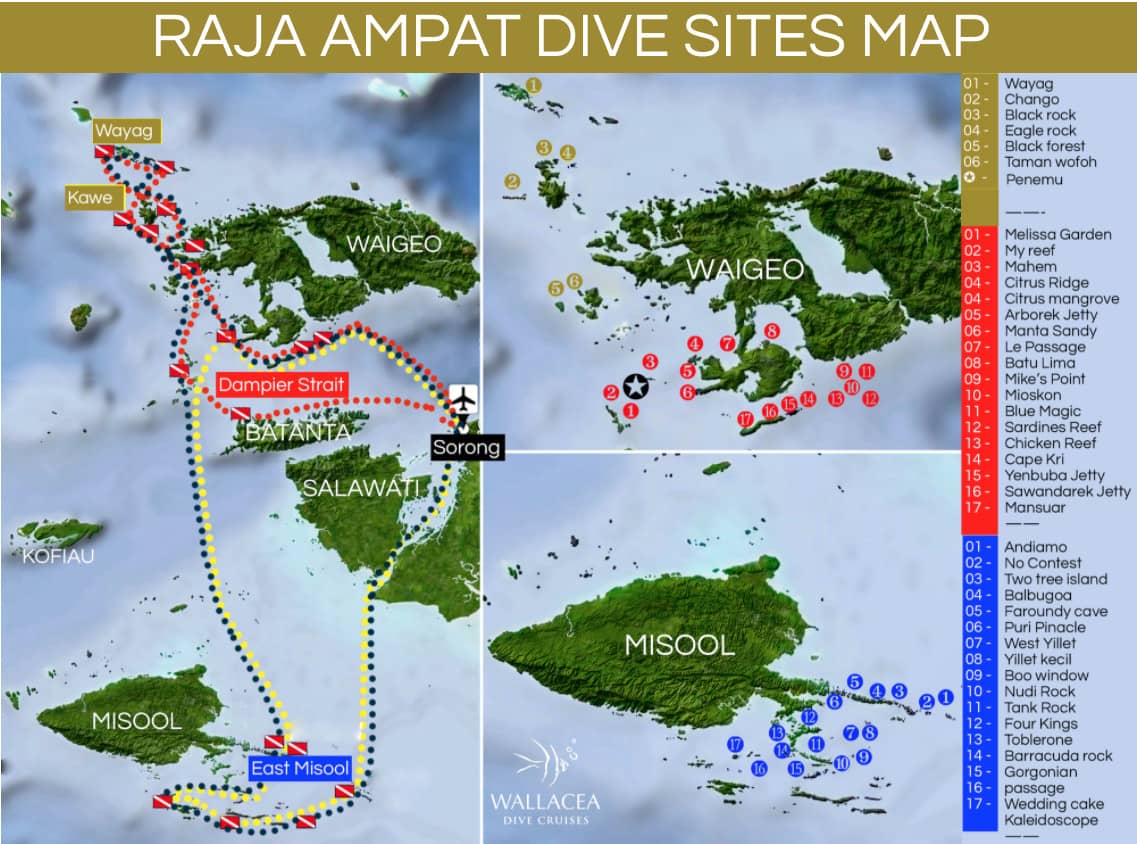 Raja Ampat Practical Information
Best Time to Dive Raja Ampat
October to April is generally considered to be the prime Raja Ampat diving season, since divers would be able to explore the entire archipelago, from North to South. However, the North and Central Raja Ampat are accessible year-round, while the South is closed for diving from May to September.
How to Get to Raja Ampat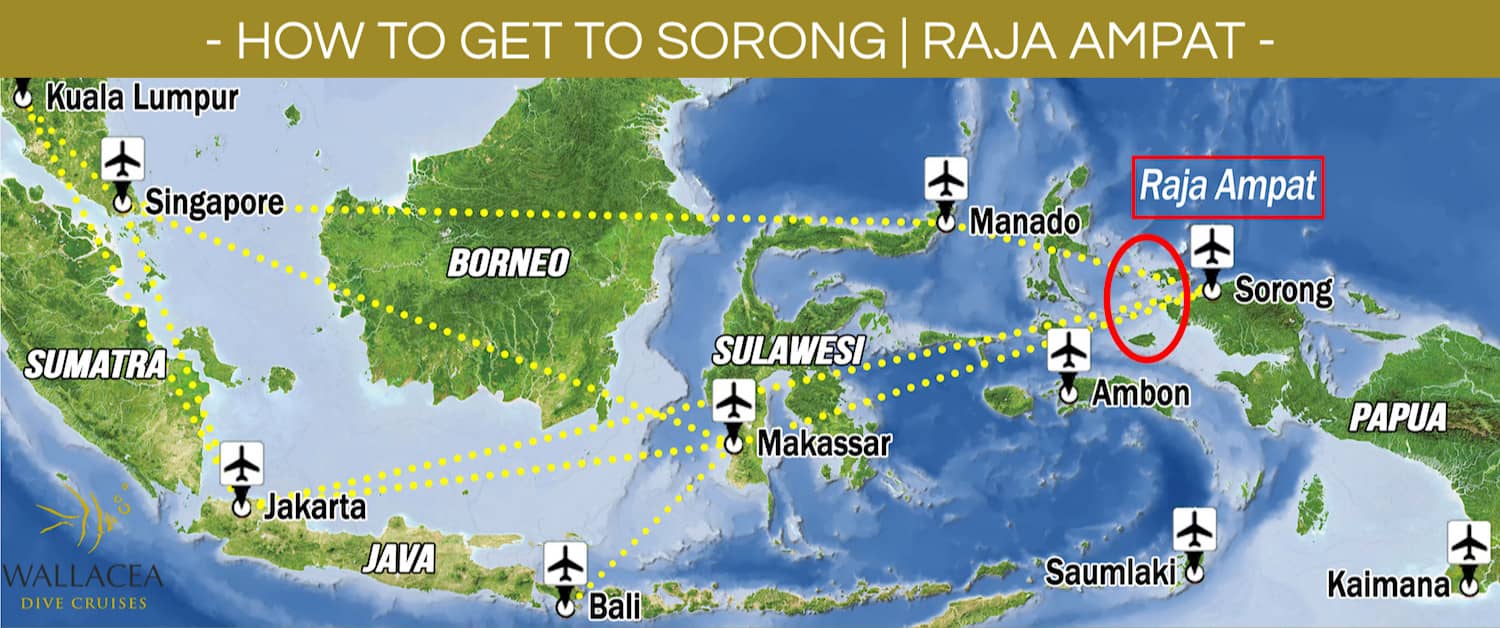 The best way to get to Raja Ampat is by flying internationally to Jakarta (CGK) followed by a trip to Sorong (SOQ). Wallacea team will pick you up at the airport and transfer you for free to the port for embarkation. We can also arrange for an overnight in Jakarta and/or Sorong if needed.
Another great way to reach Raja Ampat is by taking a Qatar Airways flight headed to Sorong (SOQ). This flight is now available out of many locations in Europe and the United States.
It is possible to fly out from Bali (DPS) but we do not recommend it as it requires more flights to get to Sorong. Feel free to contact us if you need help with arranging flights.
Raja Ampat Water Temperatures
Raja Ampat's waters stay warm and nice year-round at 29-31°C (84-89 F). You won't need more than a 3 mm wetsuit or shortie. Some even opt for a skinsuit!
Raja Ampat Weather
Just like its water temps, Raja Ampat is typically warm and sunny year-round, especially during the prime diving season. However, like any tropical destinations light rain is not uncommon at any time of the year.
Non-Diving Activities in Raja Ampat
Raja Ampat is an excellent snorkeling destination and can be enjoyed by divers and non-divers alike. The landscapes are also breathtaking, especially in Wayag and at Piaynemo.
Other non-diving activities that guests may enjoy aboard include kayaking, paddling, beach barbecues, and leisurely boat trips to enjoy Raja Ampat's beautiful landscapes.
Booking a Raja Ampat Liveaboard Trip
To book a trip on our Raja Ampat liveaboards, simply scroll down to the Schedule & Rates section below, and pick the itinerary of your choice.
Feel free to reach out to us at info@wallacea-divecruise.com by WhatsApp at +6281239332224 or by writing to us in the live chatbox.
Discover
Our cruises from Sorong dive sites selection
---
Raja Ampat is located in the "Coral Triangle", the world's center of coral biodiversity. This area has been claimed to possess the richest diversity of known coral species in the world—up to 75% according to The Nature Conservancy.
UNESCO plans to put Raja Ampat on its list of World Heritage as the area with the richest marine biodiversity on the planet. In 2007, the Indonesian government created seven new marine protected areas covering a total area of 9,000 km².
| | |
| --- | --- |
| TEMPERATURE | 27 - 31℃ (80-88°F) |
| WETSUIT | 3 mm |
| DIVING DEPTH | Max 35 m (100 Feet) |
| CURRENT | Currents are consistent on a number of dives while some others are really quiet. Some dives on reefs or pinnacles have to be done on the current exposed side in order to enjoy the best fish life and can, therefore, be slightly "sporty". Our dive guides always check the current before the dive and will inform you of the conditions. A reef hook is recommended. |
| VISIBILITY | Up to 30 m (90 Feet) |
The weather is rather variable; even during the "dry" season in this region, rain can fall anytime. Temperatures is around 30 °C. Generally calm sea with a few temporary storms; slight swell in the most northern part. There is no clear separation between dry and wet seasons.
Discover
Next available liveaboards to Raja Ampat
---