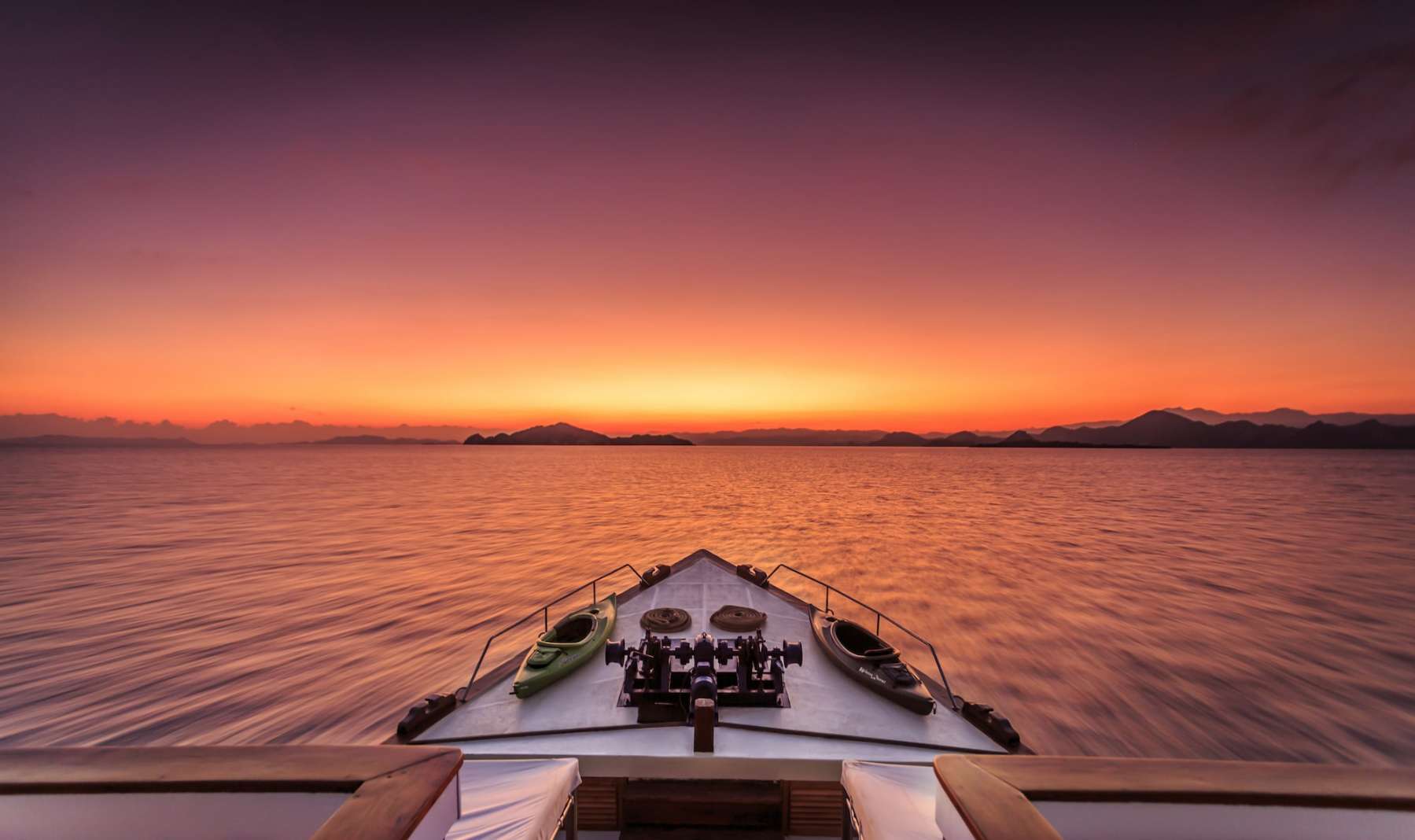 Wallacea Dive Cruise is the commercial brand for 2 Companies:
PT WALLACEA JALESVEVA LESTARI

PT SEAHORSE ARUNG SAMUDRA
Thank you for your interest in booking a cruise with Wallacea Dive Cruise.
Please take the time to carefully read the following terms and conditions. With your confirmed booking, you automatically agree to these conditions.
1. INCLUSIONS / EXCLUSIONS
1.1 INCLUSIONS

1.2 EXCLUSIONS:

Accommodation in a double-bed or twin-bed cabin.

Full board including all soft drinks, coffee, tea

3

daily guided dives + night dives depending on the itinerary. All the dives are subject to weather conditions and transit time. There is no diving on the days of arrival and departure except if mentioned on the cruise information sheet, and there are only 2 dives on the penultimate day of the cruise.

80 cf tank (12 liters), and weights belt

Land excursions depending on the safari program.

Transfer from the airport to the boat and back to the nearest airport.

International and Domestic flights, transit hotel.

Harbor and Park Fees: see details in the price list. These fees are subject to changes, new fees could be introduced.

Diving and snorkeling gear (see onboard prices section)

Scuba diving courses (see onboard prices section)

Laundry, massage service on board, use of a satellite phone

Crew gratuities (5%-10% of the cruise rate suggested)

Cancellation and (mandatory) dive Insurances

Beer, wine, and alcoholic beverages
2. RESERVATIONS AND DEPOSITS
2.1 DEPOSIT FOR INDIVIDUAL BOOKINGS:
All reservations must be made by electronic mail, if possible with the appropriate form that can be downloaded on www.wallacea-divecruise.com, and states the cruise date to which the reservation refers, the number of berths required, all passenger names, and any special requirements. All prices published on the website are meant as cash prices, respectively when money is wired via bank transfer.
A deposit of 20% of the total price per person is to be sent to confirm the booking (payment details in Clause 13) no later than 10 days after the date of the receipt of the invoice. If this booking fee is not received within the stated period of time, then your reservation is nullified and we cannot guarantee you that your required berths will be available for your desired cruise.
2.2 DEPOSITS FOR GROUPS AND FULL CHARTER BOOKINGS:
First deposit : 5% of the invoice amount payable at booking time (non-refundable, non-transferable) for confirmation
A second deposit : 40% of the invoice payable 1 year ( 365 days) before the cruise departure (non-refundable, non-transferable)
3. PAYMENT OF THE BALANCE
Payment of the balance for individual booking or boat charters must be made to Wallacea Dive Cruise 90 days before cruise departure.
If full payment of the balance is not received by this date then Wallacea Dive Cruise can cancel the booking and enforce cancellation policy as set out in Clause 5.
3.1 SHORT NOTICE BOOKINGS
Full payment must be made to Wallacea Dive Cruise at the time of booking if the reservation is made less than 90 days prior to departure. Please refer to payment instructions in Clause 4.
4.1 BANK TRANSFERS
Payments can be made by transfer to our bank account in Indonesia. Account numbers will be provided in the corresponding invoice. Transfers should mention the cruise reference and passenger(s) full name(s).
4.2 CREDIT CARD PAYMENT
We accept credit card payments through Midtrans-Veritrans. A 3% surcharge applies to the payment. Please contact us for details if you wish to pay with your credit card.
4.3 ONBOARD PAYMENT
Onboard payments have to be done in cash. Most currencies are accepted.
5. CHANGES OF RESERVATIONS
5.1 GENERAL:
If an agent or individual guest wishes to cancel or change a reservation in any way, it must be done by electronic mail to Wallacea Dive Cruise at the following address: info@wallacea-divecruise.com
5.2 CANCELLATION FEES:
The date that Wallacea Dive Cruise receives the alterations to the reservation by electronic mail will be the date used to determine whether a fee will be charged. On Saturdays, Sundays, and public holidays, the next working day will count.
5.3.1 CANCELLATION FEE POLICY FOR INDIVIDUAL BOOKINGS:
The following cancellation fees are charged for cancellations :
5.3.1.1 - More than 120 days before departure: The deposit is reimbursed minus a fixed 75€ fee/ pax.
5.3.1.2 - 120 to 91 days prior to departure, 20% of the cruise rate cancellation fee applies.
5.3.1.3 - 90 days or less prior to departure 100% of the cruise rate.
5.3.2 CANCELLATION FEE POLICY FOR GROUPS OR FULL CHARTERS:
5.3.2.1 - More than 365 days, the 5% deposit is forfaited,
5.3.2.2 - 365 to to 91 days prior to departure, the 45% deposit is forfaited
5.3.2.3 - 90 days or less prior to departure the total amout is lost.
5.3.3 REDUCTION OF NUMBER OF PASSENGERS ON A FULL CHARTER
In case the group mumber is reduced, the deposits paid can be used for the new group. However, accoding the the size of the new group, the amount of free passengers and therefore the individual rate for each passenger may be subject to changes.
5.4 TRAVEL CANCELLATION INSURANCE:
It is highly recommended that all customers purchase travel cancellation insurance.
5.5 SUBSTITUTE PASSENGERS:
If for any reason a passenger cannot make a trip that has already been booked, then the reservation can be transferred to another person. The new passenger will be subject to the contract conditions of Wallacea Dive Cruise. Passenger substitution will be allowed up to 3 days, or less depending on the cruise, prior to the day of departure. Wallacea Dive Cruise takes no responsibility for changes to any bookings not made by Wallacea Dive Cruise on behalf of the passenger (i.e. air tickets, hotel reservations, etc.). A fee will be charged pursuant to Clause 5.2.
5.6 IN CASE A PASSENGER DOESN'T SHOW UP AT THE MEETING POINT BEFORE THE CRUISE DEPARTURE:
If a passenger doesn't show up at the meeting point (airport, harbor, boat, etc...), Wallacea dive cruise staff will wait for him up to 3 hours if informed or as much as possible (according to the departure time foreseen and the other passenger's expectations) if not.
In both cases, Wallacea cannot be held responsible. The "no show" of the passenger is then considered as a last-minute cancellation. The passenger can't expect any refund from Wallacea Dive Cruise.
5.7 INSURANCE
Medical evacuation insurance that covers diving activities is mandatory. We highly recommend our passengers to purchase additional insurance that covers trip cancellation, diving equipment and luggage.
6

. CHANGES TO BROCHURE DESCRIPTION AND/OR WEBSITE, CHANGES TO RATES AND TRANSPORTATION COSTS
6.1 CHANGES BEFORE CONCLUSION OF THE CONTRACT:
Wallacea Dive Cruise reserves the right to make alterations and changes to brochure information, service descriptions, and prices in the brochures and price lists at any time before the time of booking. Should the necessity arise, Wallacea Dive Cruise will inform the agent or individual client prior to entering the contract. The date the contract is entered is the date that a booking fee is received by Wallacea Dive Cruise.
6.2 CHANGES TO PRICE AFTER THE CONTRACT HAS BEEN ENTERED:
In rare circumstances, it is possible that prices must be increased. The circumstances under which this may occur are as follows:
1. Increases in transportation costs (including fuel costs) Increases in state taxes and duties (i.e. embarkation/disembarkation fees, sales taxes, etc.) Currency fluctuations.
2. Wallacea Dive Cruise reserves the right to raise the agreed price up to 90 days prior to departure.
6.3 ITINERARY AND SERVICE CHANGES AFTER BOOKING AND BEFORE DEPARTURE:
Wallacea Dive Cruise reserves the right to change the itinerary and particular services if required due to unforeseen or unavoidable circumstances. Wallacea Dive Cruise will make every effort to offer equivalent alternatives of a comparable standard. Wallacea Dive Cruise will inform the agent or individual client of such changes at the earliest possible date and the effect they will have on price.
7

. TRIP CANCELLATION BY WALLACEA DIVE CRUISE
7.1 FORCE MAJEURE AND UNPREDICTABLE ACTS OF MAN:
Wallacea Dive Cruise reserves the right to cancel a trip for reasons of Force Majeure (i.e. natural disasters, epidemics, etc.) or unavoidable acts of man (i.e. war, riots, strikes, etc.). In the event of this happening, Wallacea dive Cruise will advise the customer at the earliest possible date. W.D.C will issue a voucher with an amount equivalent to the invoice (except for the flight tickets/ hotels or other third-party services) will be issued to the customer.
7.2 TRIP CANCELLATION BY WALLACEA DIVE CRUISE FOR OTHER REASONS:
Wallacea Dive Cruise reserves the right to cancel a trip for other reasons that are unavoidable and will inform the customer at the earliest possible date. In this case, Wallacea Dive Cruise will refund the customer.
8

. CHANGES TO THE ITINERARY AND SERVICES
Wallacea Dive Cruise reserves the right, if necessary, to change an itinerary during a trip (i.e. due to weather conditions, etc.).
9

. DAMAGES RESULTING FROM PERSONAL INJURY, ILLNESS, OR DEATH
Damages resulting from illness, personal injuries, or death which may be sustained by reason of, or while engaged on, any trip whether due to the ownership, maintenance, use, operation, or control of any aircraft, helicopter, automobile, bicycle, boat, vehicle, hotel, common carrier or any other conveyance used in carrying out these trips. Wallacea Dive Cruise assumes no liability due to any cause whatsoever whether caused by failure or delay or other irregularity, acts, or omissions occurring during a trip under which the means of transportation or other service provided thereby is offered or supplied by owners, operators, or public carriers for and on behalf of Wallacea Dive Cruise. Wallacea Dive Cruise shall not be responsible for any injury to a person (whether or not resulting in death) or damage to property arising out of any act of war, insurrection, revolt, or other civil uprising or military action occurring in the countries of origin, destination or passage. In case of a medical problem arising during the voyage, either onboard or onshore, which results in costs for evacuation, use of aircraft, or repatriation, the responsibility for payment of these costs belongs solely to the passenger.
10. LOSS OR DAMAGE TO PERSONAL BELONGINGS
Wallacea Dive Cruise does not take any responsibility for loss or damage to guests' personal belongings that are due to Force Majeure causes (refer to Clause 8.2).
11. MINIMUM DIVING EXPERIENCE REQUESTED
The minimum dive level requested to join the cruise is PADI Advanced Open Water or CMAS level 2, with a minimum of 50 dives at sea. However, divers with a lower level will be able to participate, but with specific coaching at additional cost. Please consult us for more information
By forwarding of deposit, the agent or individual guest certifies that the passenger does not have any mental, physical or other condition or disability that would create a hazard for him/herself or other passengers. Wallacea Dive Cruise reserves the right to cancel or withdraw any person as a member of the tour at any time.
PT WALLACEA JALESVEVA LESTARI (MV AMBAI)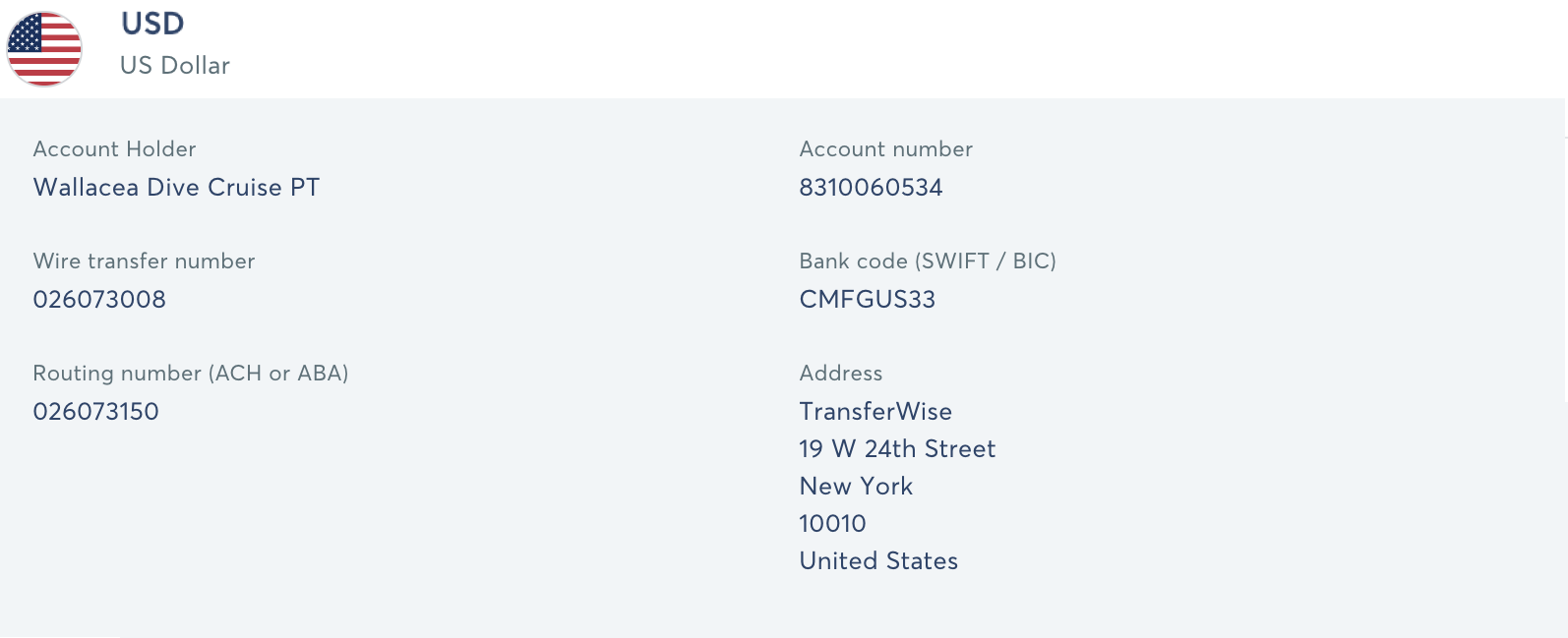 PT SEAHORSE ARUNG SAMUDRA (MSY SEAHORSE)