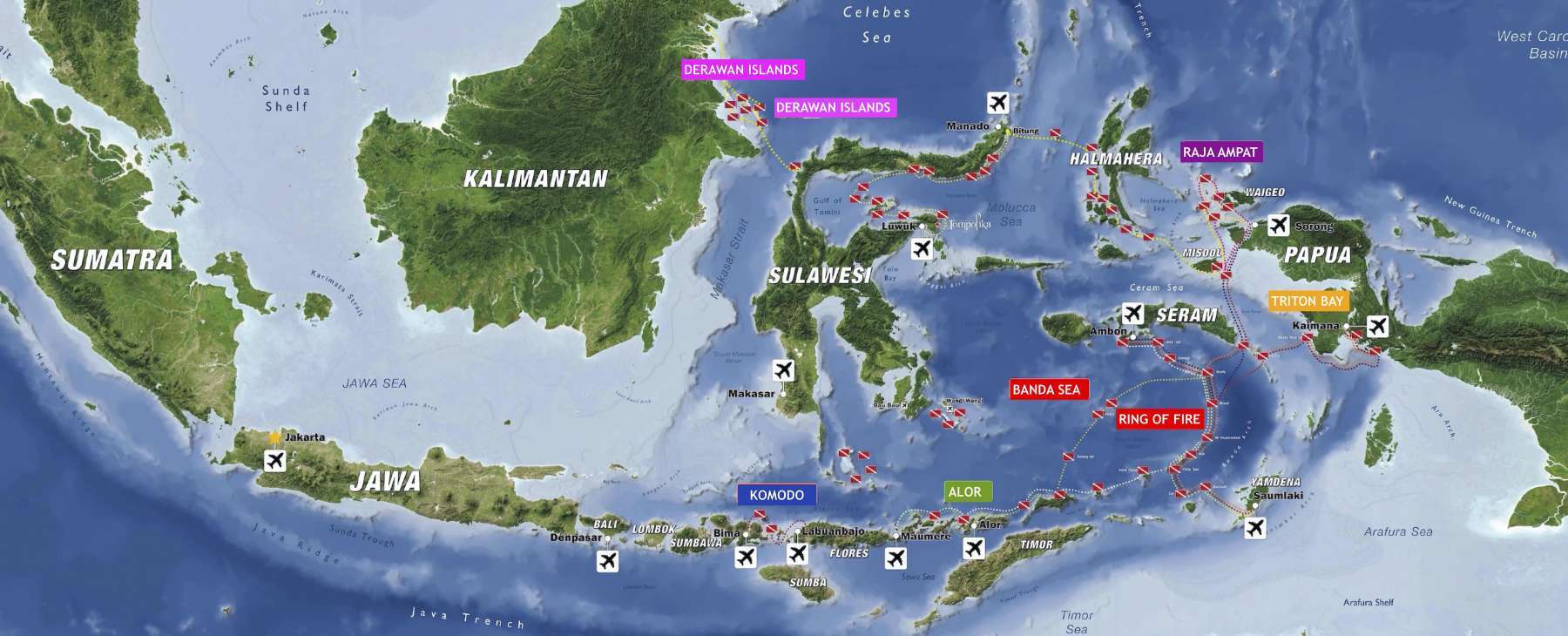 Premier Indonesia Liveaboard Boats
Indonesia is the most popular scuba diving and liveaboard destination. With the richest diversity of marine species on earth, the largest archipelago in the world, with a coastline of 50000 km has some of the very best dive accessible from the shore.
If Bali, Pulau Weh and Lembeh strait offer good options to scuba dive from a resort or a dive center, most of the pristine diving destinations are either offshore or too largely spread to be covered on one-day trips.
To discover the variety of species and landscapes the Indonesian Papua presents, Raja Ampat liveaboard diving is the undisputed divers' favorite. Cruising in the Banda Sea across the Ring of fire on a liveaboard is an adventure of a lifetime. To combine multiple diving destinations like Triton Bay together with Raja Ampat or the Ring of Fire, or Halmahera with Raja Ampat, liveaboard diving is the way.
To make your diving holidays unforgettable and unique, our cruises offer a high level of service and understanding of underwater photographers' needs. The experience in our liveaboards is outstanding: that's the reason why so many of our guests are frequent repeaters.
With a ratio of guests/crew higher than one, the service is 5 stars, 17 years of experience on the Indonesian Seas brings some knowledge of the best dive sites. The perfect layout of our liveaboard boats brings convenience in use and allows intimacy.
Meet our vessels
MV Ambai - Finished construction in 2012. Ambai is designed and built from scratch by Jerome Doucet himself. The pride of Wallacea, Ambai is conceived specifically for diving. The convenience of the layout, the engine, and the facilities are custom-made for divers' needs.
MSY Seahorse - such a heart stroke that we acquired her in January 2018. Built in 2004, we totally refurbished this great Liveaboard (a height-month job for 30 workers) to match our demanding standard.
Impeccable service - we look after our guests to the tiniest details. This is our definition of luxury.
---