Derawan Islands Diving Liveaboard
---
DIVING IN DERAWAN ISLANDS
One of Indonesia's underrated hidden gems for scuba divers, Derawan Islands in East Kalimantan (East Borneo) offers some of Indonesia's richest underwater life. In fact, Derawan ranks just second to Raja Ampat in terms of coral diversity with over 460 different species of corals. While Derawan is mostly known in the scuba diving sphere for its manta rays and whales sharks, there are actually over 870 fish species inhabiting this area. Whether you're into tiny critters or bigger fish, there will be no shortage of marine life to see!
This archipelago also hosts Indonesia's largest nesting site of the endangered hawksbill turtles and giant green turtles, where you can watch them lay their eggs in the sand! Furthermore, Derawan is also one of the 4 places in the world where you can swim with stingless jellyfish. You rarely find a dive destination as varied as Derawan.
Other species that may be seen in the area include hammerhead sharks, thresher sharks, leopard sharks, dolphins, dugongs, and barracudas.
While there is still large room for exploration, four islands stand out for diving and snorkeling.
DERAWAN DIVE SITES MAP
There is still room for further exploration, but the main dive sites in Derawan are currently spread across its 4 main islands: Kakaban, Sangalaki, Maratua, and Derawan. The dive sites greatly vary with plenty of caves, wrecks, muck, walls, and reefs to choose from.
Diving in Maratua
The world-renowned dive sites "The channel" AKA "Big Fish Country" are predominantly located on the east part of this 35.5 square kilometers U-shape island. On the drop-offs the current is strong: prepare your hook and get ready for the show! Outstanding schools of barracudas, reef and grey sharks, eagle rays, thresher sharks, giant grouper, school of Jackfish, schools of Bumphead parrotfish, turtles, and many more are frequent encounters, not to say, residents.
Pelagic of course but also colorful and super healthy corals. Another dive site for turtle fanatics: "Turtle Traffic". If you manage to count all the turtles you see there: then you've been unlucky as it was a bad day. 13 caves are connected to the sea White sand beach to chill and tan: a taste of paradise.
Diving in Kakaban
This is where you get to swim with various species of endemic jellyfish!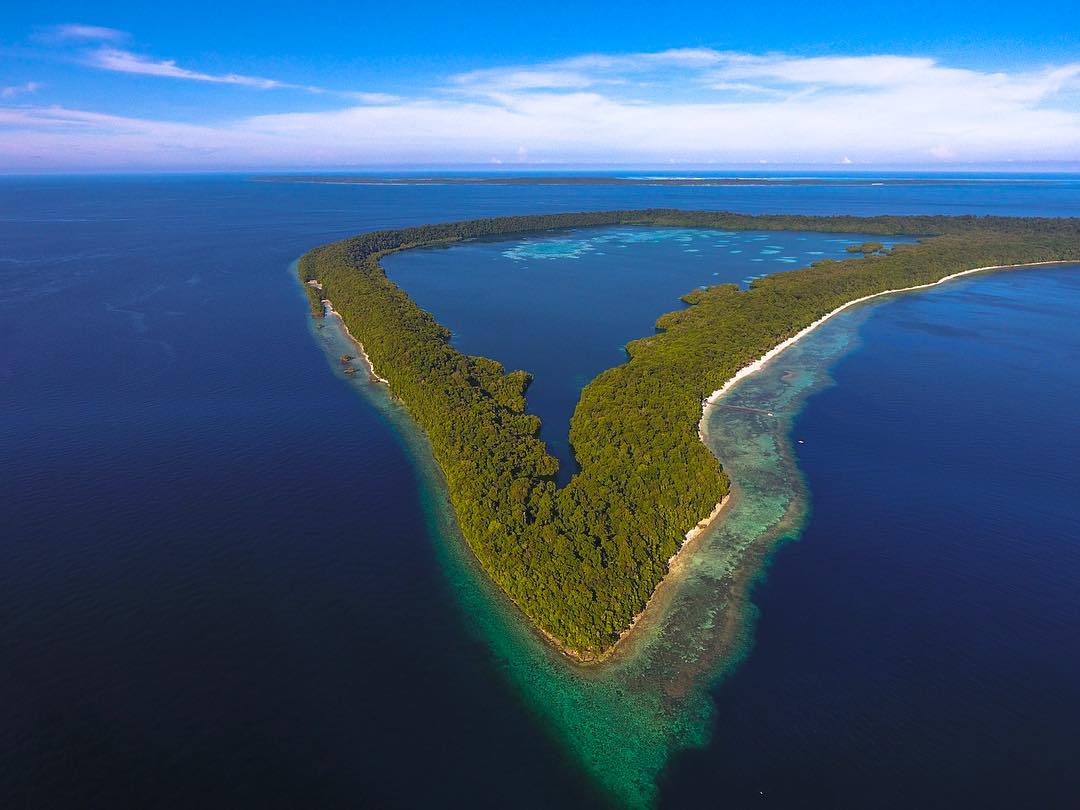 This island which consists of a lake fringed by a mangrove was originally a lagoon surrounded by a coral atoll. Two layers of water here: freshwater on the surface (to a depth of 3 meters) and saltwater at the bottom. Thousands of years ago a geological motion raised this atoll creating the island and its lake. The species stays isolated since then created a unique biota. The brackish water and bottom covered marine green algae host many species. 4 different species of endemic jellyfishes, tunicates, nudibranchs, crustaceans, sea cucumbers, anemones, and other critters. Just like is Palau in Micronesia. The harmless jellyfishes are non-stinging: no need to wear a wetsuit.
Barracuda point is another highlight of this island. Pelagic such as sharks and tunas hunt around big time!
The outer ring of Kakaban island offers divers a wide variety of spots from corals, big pelagic, and also the thrilling cave dive (experienced divers only).
Diving in Sangalaki
Well known for its manta ray cleaning station all year round while there are several other spots to encounter mantas, Sangalaki Island is also home to a turtle nursery run by the local government. Thousands of eggs are laid there! When they hatch baby green sea turtles orient themselves with the moonlight reflected on the sea. So any other light misleads them in the right direction to take. The outstanding coral gardens and a drink during Sunset on the sandy beaches will make your trip-to-paradise and unforgettable experience.
Diving in Derawan
Scuba diving in Derawan is mostly drifting and muck diving. Flamboyant cuttlefish, mandarin fish, ghost pipefish, frogfish, blue ring octopus, harlequin shrimp, and tiger shrimp to name a few. Especially a place for photographers, who always want to get a picture of jawfish with eggs.
Diving in Talisayan
Just like in Triton Bay and Cendrawasi, Derawan's Bagans (fishing platforms) are frequented by whale sharks who come early in the morning to suck the fishing nets full of anchovies. During the southwest monsoon (June to September), bagans usually move out to Talisayan. Whale sharks follow and so we will. Divers and snorkelers can approach them for as long as they like. With a depth never exciding 8 meters, it's frequent to see divers around for up to 2 hours!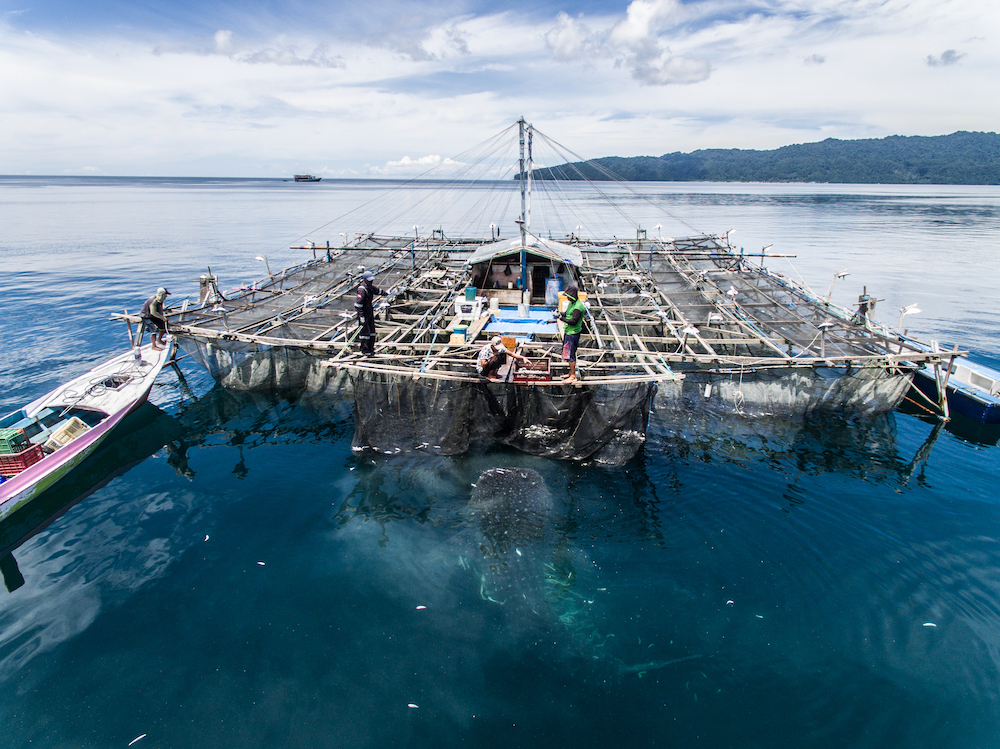 Diving in Pulau Panjang
Muck diving. Recently seen Satomi Pigmy and sea dragon.
HOW TO GET TO DERAWAN ISLANDS
Tarakan in Indonesia is a gateway to Derawan.
Most of our cruises (not all of them) depart from Tarakan: a small island on the Northern East part of Kalimantan (Borneo). Please refer to the pdf of the selected itinerary for more details.
Well served with 2 daily morning flights from the main International Indonesian Airports such as Jakarta, Makassar, Manado. Tarakan is Jakarta time + 1.
Flights Jakarta (CGK) - Tarakan (TRK)
Airlines

Flights

JT626

JT758

Jakarta-Tarakan

05:00-08:50

09:30-14:10

Flights

JT673

JT759

Tarakan-Jakarta

06:05-08:55

14:50-17:35
Flights Manado (MDC) - Tarakan (TRK)
Airlines

Flights

JT741

JT941

Manado-Tarakan

06:45-10:40

15:55-19:35

Flights

JT749

-

Tarakan-Manado

11:20-15:55

-
| | |
| --- | --- |
| TEMPERATURE | The sea water temperature is averaging around 28°C throughout the year |
| WETSUIT | 3 mm |
| DIVING DEPTH | Max 35 m (100 Feet) |
| CURRENT | Some sites are subject to strong currents, but we always do our best to avoid diving in strong currents. However, on a number of sites on this cruise, a certain level of currents is necessary to attract interesting fish activities. |
| VISIBILITY | Visibility in Derawan might change abruptly. Rarely exceeding 20 meters, it can lower to less than 10 meters, especially in the Island of Derawan |